"East Meets West: Oriental Medicine and the Future of Healthcare in America" is a feature length documentary that explores the depth, richness, and clinical efficacy of Oriental Medicine, and the ways that this ancient tradition can be an integral component of an emerging system of integrative healthcare that would truly merge the best of both eastern and western medicine.  Through poignant interviews with acupuncturists and nationally renowned health practitioners and educators, the history and branches of Chinese Medicine are explained in a way that both clarify and demystify this powerful system of health and healing.  The film covers not only the history, theory, and clinical applications of Chinese Medicine in a captivating and compelling way, but it also goes on to suggest a larger model of integrative medicine that would blend the best of Oriental Medicine and western medicine, thereby serving our population much more effectively.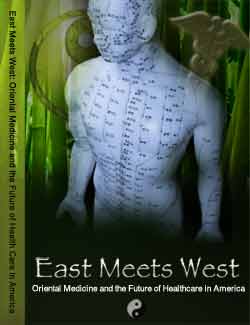 Directed by Lynn Walker and produced, hosted, and edited by Jennifer Buys, L.Ac., LMT, "East Meets West" is a wonderful film not only for anyone interested in Chinese Medicine, but also as a call for a comprehensive and much more potent and effective system of healthcare delivery. The film garnered both an honorable mention at the 2010 Los Angeles Reel Film Festival and a Special Jury Award at the Oregon Film Awards.
The film features interviews and commentary with Randy Davis, Dr. Shanilka DeSoyza, Peter Eschwey, Dr. Heiner Fruehauf, Seishiro Hokazono, Lonny Jarrett, Dean Johnson, Sang Montage, Dr. Mary Ann Wallace, Leesa Walters, Brodie Welch, and the Providence Integrative Medicine Center staff in Portland, Oregon.